As far as I know, there are 3 ways to check Windows directory size. Now, I share them to you.
Method 1
Right-click on a directory in Windows Explorer, and then select "Properties" command, refer to below screenshot to know how to check directory size in Windows intuitively: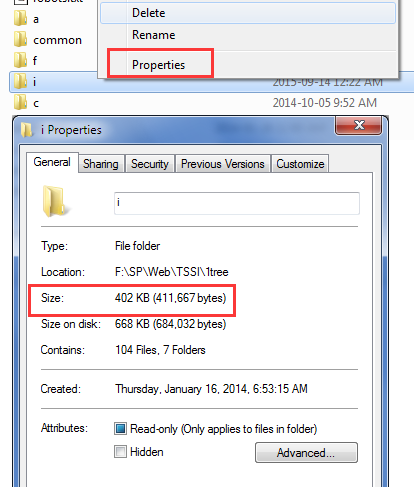 Method 2
Move your mouse on a directory in Windows Explorer, wait a moment, you will see the tooltip, and the tooltip contains the directory size information, like this:

But above two methods are very hard to check all directories sizes under a directory or a drive, and cannot sort directories by their sizes. So I will focus on the method 3 – it can check Windows directory size easier, automatically lists the size of all directories (and files) directly, and sorts directories (and files) with size in descending order (from big to small) by default.
Method 3
Use
1Tree Pro
, click below button to get it:

Download 1Tree Pro to Check directory size in Windows!
By using 1Tree Pro, you can check directory size in Windows like this: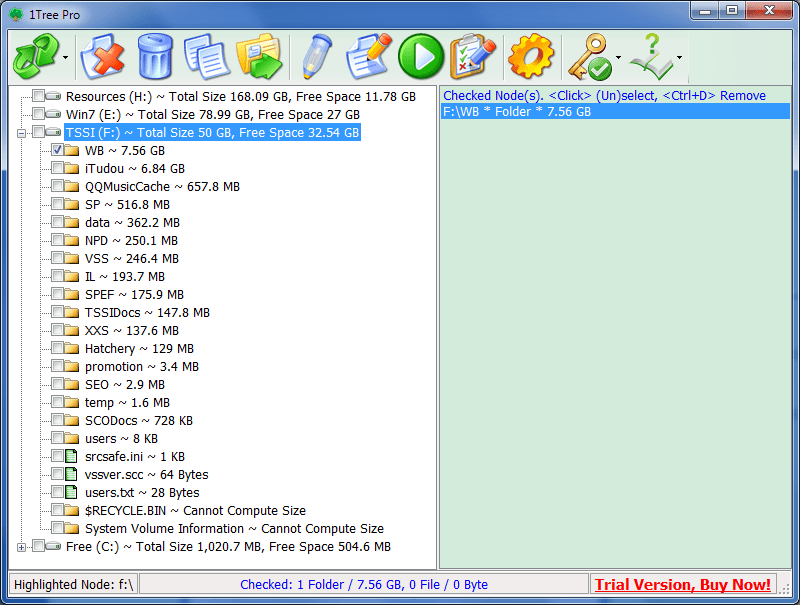 As above, 1Tree Pro lists all resources (directories / files) with sizes under a drive or directory, and sorts them by size. To check the directory size under a directory / drive, just simply click it.
This is not all, you can do some common actions for the selected resource (left tree) or the checked resources (right list), such as Delete, Move to Recycle Bin, Rename, Run/Open, etc. Even more, you can copy the full path (e.g. D:\Test\NewDoc.txt) to clipboard. Just use the related toolbar buttons to do these.
Every button has tooltip, understandable icon, and corresponding context menu item. No need to learn how to use 1Tree Pro, just download, install and run it, you will get a tool to check directory size for windows in a tree viewer conveniently.
Please note that the interface can be customized also, such as font, toolbar position and the symbol between directory/file name and its size.
If you are interest in 1Tree Pro, please visit its homepage to know more detail, such as full description, features, update history, price, etc.
1Tree Pro homepage:
https://1tree.info/pro.htm
1Tree site
(all related software products about checking Windows directory size):
https://1tree.info/
Also, you can simply click below button to download its official latest version:

Download 1Tree Pro to Check directory size in Windows!
Hope it is useful for you, just take your time to enjoy it.
See Also